Quick Take: Treme, "I'll Fly Away"
"If it was easy everybody'd be in here." – Albert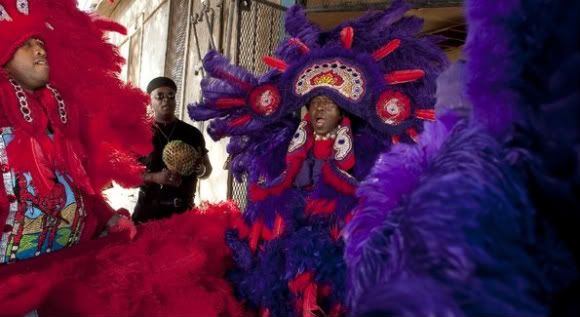 Review: Treme, "I'll Fly Away"
(S0110) I've been thinking about and struggling with what to say about Treme's first season finale for several days now. I love how Heather Havrilesky of Salon.com describes the show as "a four-hour lunch of a drama series if there ever was one," which sort of sums things up rather elegantly. And how do you "review" a four-hour lunch? A lot happened, it was sumptuous, it was rich, there was a great deal of chatter, and to be fair there were a few moments here and there when I wondered when the hell the check would arrive.
I will say this: Treme is a bold show in its own way, even experimental in its refusal to conform to traditional notions of plot and form. It's a show that could only have been produced on the shoulders of groundbreaking shows The Sopranos (which helped to change everything) and The Wire, and for those facts alone it deserves celebration.
And I'm also deeply curious about what Treme will unfurl for us in its second season, which of course is the quintessential goal that all good stories achieve ("what happens next?"). Part of me thinks that Treme has navigated past some of its trickiest elements and can now set the stage for an exciting and dynamic show within its next cinematic and deliberately laid back four hour lunch session of drama.
We'll be at least six months past Hurricane Katrina for one, and the characters will be moving on past the initial devastation and taking new steps to rebuild their lives. The mystery of Daymo's death/murder has been largely solved, even if Toni Bernette's (Melissa Leo) investigation into neglect and incompetence in the New Orleans law enforcement department trudges forward. Albert Lambreaux (Clarke Peters) and his crew will be largely past the Big Chief season for a while and presumably will need to find other things to do ahead of Mardi Gras 2007. And Creighton Bernette's (John Goodman) suicide, which I had major problems with, will leave its tragic mark on the Bernettes but will leave other storylines open to develop.
I found myself kind of speculating that a newer and slightly tighter show could emerge that centers around some of my favorite characters. Davis (Steve Zahn), who many hated, represents the best of the show and even New Orleans, kind of a bright and slightly stoned and manic counterweight to Creighton's grim and ultimately fatal cynicism. Davis remains an insistently optimistic defender of New Orleans culture and lifestyle to the end, taking Janette (Kim Dickens) through a last ditch, last day tour of New Orleans' sensuous culinary and musical and cultural delights. Janette still bails for New York and its lure of better opportunity, but I have a feeling that she'll be back before long.
Antoine Batiste (Wendell Pierce) seems to be the best character to sit next to during the four-hour lunch, as he's always doing something interesting or watchable, even if nothing very noticeable is going on. Pierce playing Batiste as a deeply likeable and deeply flawed guy who is trying to get by and generally trying to do good by people reminds me greatly of his portrayal of Bunk Moreland on The Wire. What's so remarkable is that the two characters are also completely distinctive from one another. Case in point is that as a viewer it's hard to think badly of Antoine losing all of his hard earned $1,000 playing poker between breaks during a prestigious tribute gig because, well, that's just Antoine being Antoine.
Annie's (Lucia Micarelli) journey also became one of my favorites on the show. Perhaps it's because this was a story that was a little more plot driven than others (will she leave Sonny, played by Michael Huisman, will she break out on her own to fiddle it up with other musicians around town, and so on) but it had much to do with the sweetness and anxiety and worry that she holds in her face. As a viewer I cared about her and her next steps, literally shouting at the TV screen when she ventured back into Sonny's self-destructive orbit. I liked very much that Annie shows up on Davis' doorstep at the end of the episode ("what did I do right?" Davis asks the sky) and look forward to seeing developments in their relationship.
The fact that I haven't even touched or barely the scratched the surface on any number of plot threads and/or characters shows right there what an exotic stew of a show Treme is. And during the break until the second season begins we have time to check out some of the fantastic array of New Orleans jazz that played throughout the season.
More thoughts on "I'll Fly Away":
"Then. Get. A. Job." – Davis' mom
"For starters, no animal sacrifice." Davis gets his DJ job back!
"Antoine Batiste is strictly a cooked fish eating motherf---er." – Antoine on sushi
"Sounds like every motherf---er up in here spinning," – LaDonna (Khandi Alexander) says putting her ear up to a gravestone in the graveyard where Daymo is to be buried.
"My brother's gone. Lots of people gone." – LaDonna explaining to Toni the futility of looking further into Daymo's death.
"No glue gun! I'm old time Indian." – Albert
"If it was easy everybody'd be in here." – Albert. That's kind of an anthem for Albert and the show. Ironic take on The Big Easy.
"She a cold bitch. Katrina." – one of Albert's crew, relating that they don't have time to put together the three suits they wanted.
"What the hell kind of Chinese shit I'm listening to?" A cranky Albert hearing "the new Juvenile joint" playing on the stereo.
Albert and crew "take that walk"… "I'm the Big Chief, guardian of the flame!"
"I'm just a player… I don't even know how to sing." – Annie. That's kind of her anthem… she's trying to figure out how to "sing"
This Machine Floats, a guitar reads
"You're so much better than me. As a player." Sonny says to Annie.
Sonny smashes his keyboard, then hits the bar and orders the "$40 High Life." Nice.
Really admire the direction of this series. As example, the shot of Annie walking in the distance down a quiet New Orleans street with Sonny following transitions into Davis walking toward the camera with someone from the radio station. The effect is movement, subtle and beautiful: out and in, far and close.
A lengthy montage sets up an old New Orleans standard, "Indian Red" I believe (think I caught the phrases "strike up the big chief" and certainly "we love New Orleans" in there), represents the best of what Treme (and David Simon) does: a big sweep of the brush over the story's canvass with gorgeous and gritty shots set against relatively eccentric but accessible musical backdrop.
Video: Treme, "I'll Fly Away"
Preview of the episode, from HBO:
Recap: Treme, "I'll Fly Away"
A funeral procession offers mourners a chance to reflect on the events of the last year.
From Around the Web: Treme, "I'll Fly Away"
TV Squad: And in the end we finish just as we began -- with a funeral's second-line. "Play for that f--kin' money," Antoine says one more time. Lovely LaDonna sports a bittersweet smile as she dances for her baby brother. Toni looks like a shell of herself as she second-lines for someone other than her husband. And that last moment with Antoine? He's talking to the cab driver he owed money to from the first episode. Brilliant.
Alan Sepinwall: Because of what happened with Creighton last week, this is in many ways Toni's episode, and Melissa Leo was superb in showing Toni coming to grips with the nightmare of her husband's suicide. She's clinging to every scrap of hope at the beginning (and the cops, while business-like, are decent enough to let her), then can't anymore, and the horror overwhelms her.