Quick Take: Treme, "Meet De Boys On The Battlefront"
"Are we entering some sacrificial realm here?" – Davis McAlery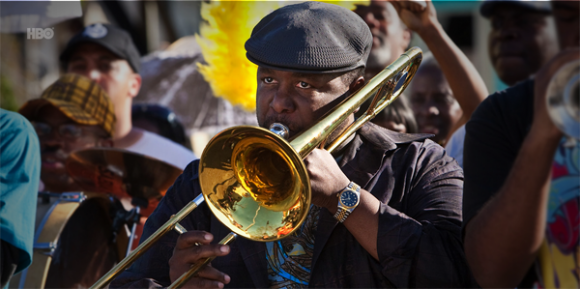 Review: Treme, "Meet De Boys On The Battlefront"
(S0102) The opening scene features a ratty-looking ancient guitarist howling the blues into a microphone and bashing on his old guitar for all it's worth. When he's finished, Coco the bluesman (Coco Robicheaux) has a conversation with Davis McAlery (Steve Zahn) about how the relocated radio station has nothing of the soul and old time feel as the pre-Katrina one. After a discussion about how they need to bring the old world into the new, Coco proceeds to break out candles, liquor, a live chicken, and a very sharp knife. I take the implication here as both literal and a bigger picture invitation for us, the audience, to take a step further into a mystic world.
We add two new characters to the widening cast this week: musicians Annie (Lucia Micarelli) and Sonny (Michael Huisman). They're playing tunes, Annie rocking a mean violin and Sonny on keyboards, for tourists in the Quarter. Sonny is clearly irritated by church group tourists from the Midwest who don't know how to say N'Orleans properly, let alone heard of the 9th Ward pre-Katrina. Still, they reluctantly agree to play "When The Saints Come Marching In" for a marked up tourist fee.
Those same tourists are staying at the Inn on Bourbon, where Davis finds himself working at the front desk after he gets fired from his radio DJ gig. Zahn gets a boatload of great lines off this week, including instructing the tourists to say "we're sure" to their taxi driver if questioned about their guidance to head to Bullets ("a long story"), a place off the touristy beaten path. (Let's just say that Davis' run at the hotel… doesn't last too long.)
The tourists' journey turns into a bit of a running gag, as they run into Antoine Batiste at Bullet's, fresh off the Bourbon St. gig he's ashamed of (anyone ever hear of a strip club featuring a live band with a horn section?). It's a great little scene in that we're allowed entry into the real/non-touristy New Orleans ourselves, what with strange characters (such as Bullet himself!), amazing local music, and a character and flavor you just won't find anywhere else.
Meanwhile, we learn that one thing you don't want to do is steal tools from Albert Lambreaux (Clarke Peter). You could feel Albert's anger and frustration boil over as he wreaked holy hell on the poor kid who found himself in his crosshairs. But the Chief is starting to get the band back together, one man at a time ("you gotta start somewhere," George says), which portends hope.
There were a number of storylines and sub-plots going on this week (including Toni's search for LaDonna's brother, Janette's money problems at the restaurant, and Creighton Bernette, played by John Goodman, railing against academic cutbacks in the sciences versus the humanities), a busier affair than the brilliant pilot. I've no doubt though that David Simon and company have a master plan that will make it all hang right in the end.
More thoughts on "Meet De Boys On The Battlefront":
On most shows, multiple laid back interludes would irritate me. I'd think: get to the story already. But here, the music is part of the story, part of the fabric of the society we're getting to know. And it helps that the music is top notch all around, too. I wind up wishing I could see more of it.
I love the seemingly half assed job that Davis does in cleaning chicken blood off the wall of the radio studio. His large ex-associate DJ advises not to go any further as that would be "bad juju." I get the feeling that Davis does a lot of things half assed.
"I'm crossing mighty rivers and shit." – Antoine Batiste (Wendell Pierce). We learn that Antoine has a nice piece of a past, with multiple kids and exes strewn around town.
It's kind of weird and cool that Elvis Costello shows up for the second episode in a row, right?
Watching Albert Lambreaux wander around boarded up houses during one scene, I couldn't help but to be mightily nostalgic for the rowhouse murders storyline from The Wire. Albert's quest to reclaim a piece of New Orleans is going to be a struggle, we're learning, but I have a feeling that Albert ain't no quitter.
Video: Treme, "Meet De Boys On The Battlefront"
Check out some action behind the scenes of Treme, from HBO:
Recap: Treme, "Meet De Boys On The Battlefront"
Albert takes the law into his own hands; LaDonna gets news about her missing brother.
From Around the Web: Treme, "Meet De Boys On The Battlefront"
A.V. Club: If I have one worry about Treme so far, it's that it's a little underdramatized. I suspect some of that is intrinsic to the show, which aspires more to slice of life than to the hard-charging requirements of The Wire's police procedural. And I also suspect that Simon and company are simply taking their time in setting the table, much as they did when The Wire was first getting off the ground.
Tapped: That little note about FEMA funding leading prisons to hold onto prisoners to attract subsidies is classic David Simon: Well-meaning incentives that warp institutions, leading to bad outcomes.
Thompson on Hollywood: Who knew wise-eyed Big Chief Lambreaux (Clarke Peters), seemingly a man of gentle sorrow, was the kind of guy to brain a copper-wire burglar bloody with a bludgeon?