It's pretty rare for me to laugh while watching the trailer for a new TV show, especially in a way that's not laughing at the show as much as with the show.
But when a teacher stands before a classroom full of high school kids, during the Those Who Can't trailer (premieres Thursday, February 11th, at 10:00/9:00c on truTV), points to a blender on his desk and announces, "So who wants a virgin... barely alcoholic margarita? Who's in, everybody?" Hands shoot up around the room. "Yes!" the teacher continues. "That's what I'm talking about here. We're having fun, and we're learning." And that's just funny.
You figure out pretty quickly that Those Who Can't refers to teachers and the old -- and to be fair, terribly demeaning -- axiom that "those who can't, teach." In the world of this sitcom, however, it's apropos as these teachers are obviously deeply terrible at what they do in every possible way. That is, if Those Who Can't had a crossover episode with Comedy Central's Workaholics, you could easily see Blake, Adam, and Ders step in as substitute teachers and feel right at home with the high school faculty on this show.
Some gags on a show like Those Who Can't are just going to fall flat (one bit we see, where a gym teacher brashly decides to climb the old rope all the way up to the ceiling, rings a bell, after which the rope promptly breaks, sending him swiftly back to terra firma may be one of them), but that's the nature of a comedy that's attempting to be outrageous-ish. Others will ideally land, as it appears one does involving several teachers getting accused of attempting to plant heroin in a student's locker and a broad misunderstanding of the principle's use of the "f word."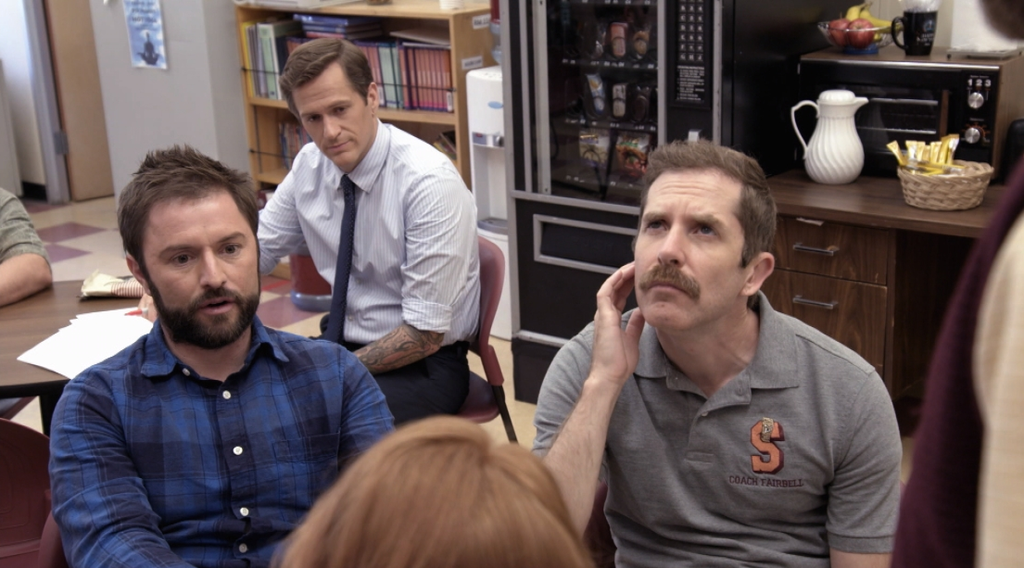 Those Who Can't features a cast that will be mostly fresh faced for television audiences but appears to be adept at handling this style of comedy. It includes Adam Cayton-Holland as Mr. Payton, the Spanish teacher ("muy thirsty for knowledge," he's the one who enjoyed the indulgence of the barely alcoholic margaritas with his receptive class), Andrew Orvedahl as Coach Fairbell, the health teacher ("your balls are in his court"), Benjamin Roy as the history teacher ("he will fact you up"), and Maria Thayer as Ms. Logan the librarian ("she'll stir up some shhhh").
Those Who Can't isn't for everyone (the LA Times' Mary McNamara calls it "a teachable moment in subpar comedy") and it's not trying to be. But Those Who Can't might just be that kind of dumb genius comedy (Workaholics Army: you know what I'm saying) that I can get behind.