Hope everyone had a very happy new year!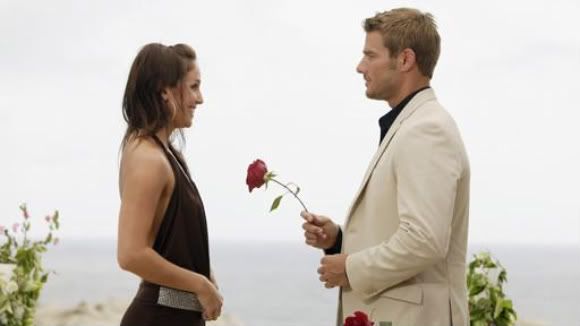 Slight format change, wherein I'll start off with some quick thoughts:
The Bachelor returns
Should be quite a bit of attention paid to the return of Brad Womack for his second go round at love. But hopefully there will be enough backstabbing/cattiness to hold our attention (that's what keeps us watching, right?)
Antiques Road Show kicks off its 15th Season on PBS
The show will always hold a place in my heart if only for its brief role in the stoner/lowbrow comedy classic, Grandma's Boy
CBS comedies
I tend not to be the biggest fan of CBS programming (Survivor is a notable exception), which is why you'll find many CBS sitcoms locked into the Do We Care? category below. It's an honest question that I'm looking for a response to: do we care?
My Big Friggin' Wedding season finale
My favorite turn-off-your-brain-and-enjoy-the-mayhem show of the moment wraps its first season with, well, a big friggin' wedding or two, Jersey style.
And now, here's what's doing with tonight's TV…
Premieres & Returning
The Bachelor – ABC, 8:00
Pretty Little Liars – ABC Family, 8:00
Antiques Road Show – PBS, 8:00
American Experience – PBS, 9:00
Greek – ABC Family, 9:00
Diners, Drive-Ins and Dives – Food Network, 9:00
Disappeared – ID, 10:00
In the Bedroom With Dr. Laura Berman – OWN, 10:00
The Opener – TLC, 10:00
Significant & Notable
How I Met Your Mother – CBS, 8:00
Orange Bowl (Stanford v. Virginia Tech) – ESPN, 8:30 EST
The Closer – TNT, 9:00
Men of a Certain Age – TNT, 10:00
Category of Mystery
Castle – ABC, 10:00
Do We Care?
Rules of Engagement – CBS, 8:30
Two and a Half Men – CBS, 9:00
Mike & Molly – CBS, 9:30
Hawaii Five-O – CBS, 10:00
Weird & Wonderful
Bait Car – truTV, 8:30
Intervention – A&E, 9:00
The Craigslist Killer – Lifetime, 9:00
Cake Boss: Next Great Baker – TLC, 9:00
Dining With Death – Travel, 9:00
My Big Friggin' Wedding – VH1, 9:00
Hoarders – A&E, 10:00
Tabatha's Salon Takeover – Bravo, 10:00
Cash and Cari – HGTV, 10:00
Mario Lopez: Saved by the Baby – VH1, 10:00