There is one show in the world of television which forced me to completely redefine the definition of quality and the boundaries that television has (which is fast becoming none, for both the good and bad that represents).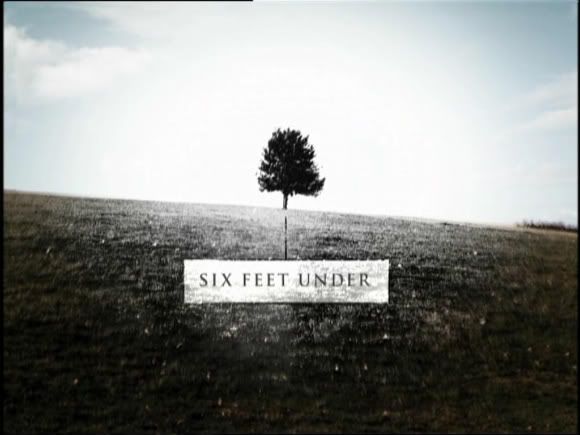 This edition of TVGA Masterworks is not about that show, but it is about the show I watched before it, the one that placed me on the road towards quality drama. I refer to Alan Ball's masterpiece (and TVGA Roundtable candidate for the Greatest Finale of All Time) Six Feet Under.
The show first aired in June 2001 and ran until Alan Ball decided it was time to move onto new projects, ending in August, 2005 after five seasons, 63 episodes and (approximately) 77 on-screen deaths. Six Feet Under is an examination of life through the lens of death -- centring on a family of morticians called the Fishers and their closest friends/associates.
Before Six Feet Under, deaths in television shows tended to be either rare events or the trigger moments for police procedural episodes, Six Feet Under chose to embrace death in all its multitude of occurrences, from the tragic to the faintly absurd and humiliating. As such the various casualties in each episode became something of an event in their part, but unlike many other shows where death tends to be either an ending or a footnote in a murder case, the deaths in Six Feet Under are often the start of the journey and an exploration of the person who died along with the friends and family they left behind.
The honest truth is that Six Feet Under is not an easy show to watch, it does have a black and twisted sense of humour that goes some way towards easing the sombre tone of the story, but at times even that is not enough. The fourth season episode "That's My Dog" in particular stands out as an episode that is an exceptionally tough watch. David Fisher's (Michael C. Hall) experiences when he picks up a hitchhiker are amongst the most traumatic ones you'll witness on any television show outside of The Shield. It understandably resulted in some quite outspoken reactions for many viewers and the episode definitely crosses a few lines.
But Six Feet Under is not just a show that shocks with death and violence. It's a show about the complexities of life. Just as it manages to invert the concept of death as an ending it also takes central themes -- like the thrill of love -- and invert them to demonstrate the cloying claustrophobia it represents. Free love and a sexually promiscuous lifestyle also doesn't get away as the intense loneliness such a choice presents is also demonstrated. There's absolutely nothing in this show that isn't looked at from many different angles, and it's this unforgiving attention to detail that really makes for the most uncomfortable experiences for the viewer. Six Feet Under asks us to contemplate our own mortality and the path life has taken, the unspoken question being: "Life will go on after you're gone, so have you achieved anything that matters during yours?" This is not a comfortable question to be asked, and it's even more uncomfortable to be forced to address it without it even being explicitly worded out loud.
Performances right across the board are spectacular. Michael C. Hall is, of course, the one who receives the most praise, especially when you consider the astounding transformation of appearance and character he's undergone now that he's become Dexter's titular Dexter Morgan. Peter Krause is compelling as the prodigal son Nathaniel Fisher Jr. and his character is the most relatable of the cast for the every man. Rachel Griffiths is nothing short of enchanting as the deeply disturbed on-again off-again beau of Nathan, Brenda Chenowith, Mathew St. Patrick is phenomenal as David's police officer boyfriend Keith Charles and the pair of them provide one of the most memorable (and rocky) relationships from the show. But for me it's Lauren Ambrose's adorable performance as the disenfranchised Claire Fisher and her journey seeking an identity of self that rings true. She's compelling and understandable, just like every other character in the show, but there's that slight feeling that she's destined to escape the life that everyone else seems to be trapped in that makes her often (but not always) a shade of light in the darker tones of the show.
Over the five seasons of Six Feet Under you'll see the Fisher family go through tragic losses and triumphant gains, and their highs and lows will have you alternatively cheering and moaning. At times the show might be too much to bear -- along with the aforementioned hitchhiking episode the final season is full of some very depressing moments, but if there is one thing Six Feet Under is good at doing, it's challenging the viewer.
I know many people prefer their television to be a form of escapism and relaxation, but for those of us who prefer to be engaged by TV and forced to re-examine their own existence or contemplate the condition that is humanity -- Six Feet Under is one of the shows that supplies plenty of food for thought.
Just be prepared for the masterpiece that is the final episode: you'll probably need a box of tissues to get through it.
Video: TVGA Masterworks: Six Feet Under
Check out the iconic opening credits from the show: