For the producers of Two and a Half Men, the eighth season was a memorable one, to say the least. The 2010-2011 season proved to be the final one for star Charlie Sheen, due to his personal problems and penchant for running his mouth. One of the highlights of the year was a skeletal Sheen claiming he was "winning" after being fired from the show. Watching the sixteen episodes of the season, it was clear that the writers and producers were not prepared for his abrupt dismissal, as he and Rose were setting off to Paris to be married in the season finale.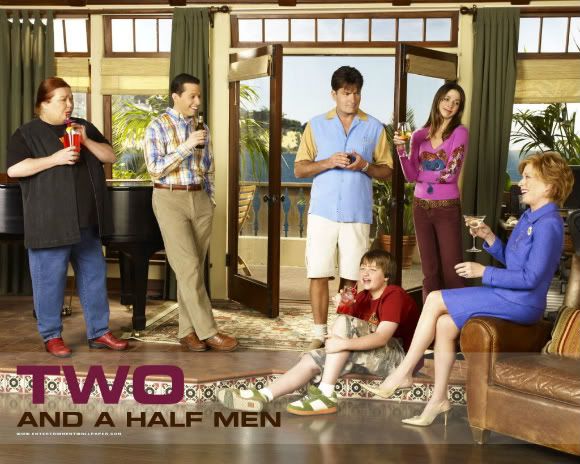 It provided a nice twist to what had proven to be a very funny season. At the end of the seventh, the eternally lovelorn Alan Harper (Jon Cryer) had finally found love with Lyndsey (Courtney Thorne-Smith), the mother of one of Jake's friends. Despite all of Al's neurosis, Lyndsey invited him and Jake to move in. Of course Alan blew it early on by burning her house down, which forced them all to move back into Charlie's beach-front place.
The addition of Eldridge (Graham Patrick Mann) as a friend for Jake was a good move, as it allowed the two of them to get up to all sorts of mischief. I especially enjoyed their attempts to get famous ala Jackass, with their own version -- Dumbass. One of their better bits saw Jake down a warm can of soda, then eat some Mentos. It was called the human volcano, and just as Jake began to projectile-vomit, Al stepped over him and caught the results full force.
As befits such a highly rated show, the guest stars list in season eight was impressive. Among them are Carl Reiner, Judd Nelson, Jane Lynch, Martin Mull, and Jennie McCarthy. Miss McCarthy reprises her role as Courtney Leopold, the hot gold-digging party girl Charlie adores. When they amicably split, Charlie is lying in bed wearing an "Assketeers" T-shirt, which was rejected as the title of Jake and Eldridge's show for Dumbass.
Towards the end of the season, the indefatigable Rose reappears with news that she is to be married. Having just lost Courtney, Charlie is vulnerable, and is soon stalking Rose and her new husband Mannfred Quinn. Her marriage to "Manny" succeeds beyond her wildest dreams, and Charlie decides to run away to Paris with her, presumably to annull her "marriage" to the manequin, and marry her himself.
That was episode 16, and it would be fascinating to know what the next six scripts looked like to close out the season. One can only speculate. As for the fate of Charlie, rumor has it that he gets killed on the trip. That is very possibly a red-herring though, as a secret like this will guarantee huge ratings for at least the first episode of season nine. The saga of Two and a Half Men has undoubtedly been one of the strangest in sit-com history. There are very few shows that I can think of whose ninth season is being met with such anticipation.
Two and a Half Men: The Complete Eighth Season is coming out this week as a two-DVD package. Despite all the on-set troubles, the show remains one of the funniest on TV. Here's hoping that the introduction of Ashton Kutcher will continue the program's winning streak.