Ugly American, that other zombie show, returns to Comedy Central Wednesday, March 14 at 10:30 p.m. (EST/PST) with more animated adventures of Mark Lilly (voiced by Matt Oberg), a New York Department of Integration social worker, and all his monster friends. Rude, crude and hilarious, Ugly Americans is a cult favorite comedy that's gaining viewers and attention after a season and a half of rediculous human/monster interactions.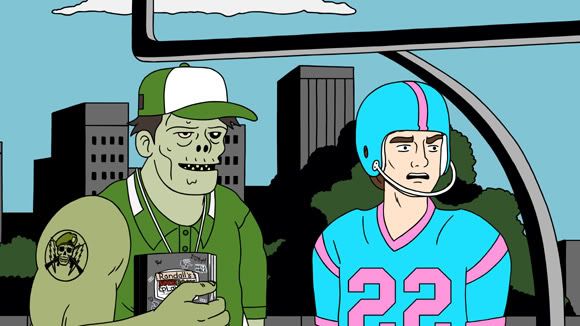 Kurt Metzger voices one of the show's standout characters, Randall Skeffington a former human who "went zombie" for a girl and let's just say that didn't turn out well for anyone involved. Randall is now Mark's roommate and is always on the lookout for a new appendange to replace the ones rotting on his own corpse. You can see where there might be some issues between the two already.
TVGA got an exclusive chat with Metzger to talk about the joys of playing Randall and how the show has upped his stand-up game.
Do the show's writer encourage you to improv a lot of Randall's dialogue when you record the episodes?
Yeah, they encourage it. But I think the writing has gotten really good. [Creator] Devin (Clark) has such a cool vision and one that I already like, so I just want to make my part of that as cool as possible. They make it easy for me to do that. The season two episodes are funny. For only having two seasons so far, the learning curve of being funny and knowing the characters is way up. I'm really pleased with it. Every part of this is relaxed and fun for me.
As a stand-up comedian, do you like the process of recording for a small audience of writers?
Yeah, I sometimes wonder if I should be getting paid for this. I love doing the record and then thinking up something funny to say and see them in the room laughing at it. Even when I do a show somewhere, like UCB East in New York, I hate doing shows there, man. In the theater with the lights, it's pitch black and I can't see nobody so it's like I'm doing Macbeth. I'm not one these alternative guys with an autistic spectrum delivery. I like to engage people. I always feel very engaged working on this show with them. I'm getting feedback about what they like and it makes me comfortable so I can come up with funny shit. It's always enjoyable. It feels like it could be taken away at any second because I like it too much.
How much of you is in Randall?
I've lived in New York now for 12 years maybe and I think I've moved 8 to 10 times. I move a lot so I've been in a lot of these situations. I have my own unique way of being a scumbag and I think that's what I bring to it. I think they already had that in mind. I bring my own thing to the wording, and to me a little bit of wording can make a picture better or worse.
Are you a better actor two years into the show?
Yeah, definitely. I'm a better actor today. I'm really playing myself on the show; a heightened version I guess they call it. I talk and act inappropriately. I'm like a feral pig. I can't go in an office and work with nice office pigs.
Has it upped your stand-up skills too?
Yeah, it's helped me with my stand-up. It's helped me work on my comedic timing. With my stand-up act, everyone is so offended all the time about everything. It's not the dirty things that offend people but more like buzz words that shut down people. I don't know if it's because it's an election year, but there's something about doing [Randall's] voice that helps me deliver a lot of jokes that might not go over. Now when I hear it played back to me, I can hear the funny parts that people respond to and then try to duplicate that.
What's your favorite Randall episode of the coming second half of the season?
My absolute favorite of what I've seen so far is the one where I get a big, muscle-y arm and take over coaching a football team that Mark was coaching. I also love the one where I start a car service and I'm picking up celebrities non-stop and taping them.
Are you getting regonized more because of playing Randall?
You know what's funny, someone in my building recognized me. I was wearing my Randall shirt. And I think because of Netflix a lot more people are watching it and so I hear about it all the time. I also heard that soldiers like it a lot in Iraq and Afghanistan. A lot of soldiers like cartoons, and I heard a lot of them really love the show. So it's a lot more people now.
Do you want to expand into more acting just using your real face?
I love would to do more acting but my main aspiration is stand-up. Everything else is gravy. I can't exist without stand-up. It's the thing that gives me my fix the fastest. I am satisfied with this show but it takes so goddamn long to animate stuff!
Any news on Season Three for Ugly Americans?
We have to wait and see, man. I have become accustomed to those checks! [Laughs] The only thing I have control over is my act, even in life, so that's all I clutch on to.
Where can fans catch more of your stand-up work?
My CD on Comedy Central Records is called Kurt Metzger Talks to Young People about Sex. You can get it off Itunes. The cover art is really cool. Devin Clark from Ugly Americans designed it for me for free which is pretty awesome.