Quick Take: Ugly Americans, "The Ring of Powers"
Ugly Americans gives audiences dragon mating and Rambo koala men.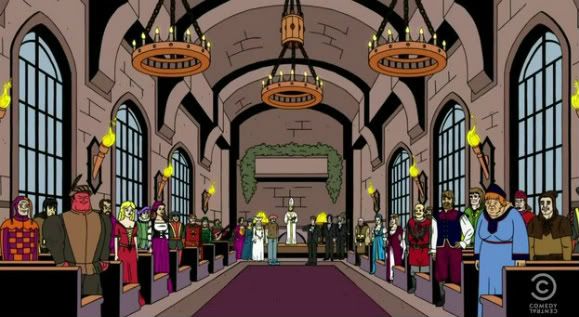 Review: Ugly Americans, "The Ring of Powers"
(S0205) I don't need the power of influence to make me enjoy this week's episode of Ugly Americans. After some shaky episodes, Ugly Americans delivers some rich and pulpy dark comedy with "The Ring of Powers," in addition to satisfying those five people on the Internet with dragon fetishes.
The plot of this week's episode revolves around Mark finding an ancient engagement ring of power that had been Leonard's. The ring symbolizes a marriage promise made to an ancient sorceress and whoever wears the ring must be the groom. In addition to a wife, the bearer of the ring also gains the power of influence, which allows the bearer to control other people's actions. Now Mark is stuck in an enchanted engagement, and the sad part is no one is willing to help.
This episode handles its various horror and fantasy references in a more innovative fashion than in past weeks. You expect Mark to go into a creepy whisper and coo "precious" whenever he takes ownership of the ring, but instead he becomes a super powered Dr. Phil. He'd much rather use his new power to help hobos admit their alcohol problems than take over apocalyptic New York. This behavior suits the goody-goody Mark perfectly and what makes it better is his lack of power hunger. Mark never desires to be king of the world with the ring; he uses the ring to make people fix their own problems. This is a refreshing parody of the Lord of The Ring, especially given our "precious" obsessed geek culture.
Mark's story ties with Doug the koala's whenever Mark turns Callie into a nice girl. This causes her father to order Twayne to kill her. Twayne (being the wussy devil he is) hires Doug as a hitman after learning that Doug was once involved with a Bolivian massacre. Yes, the same Koala man that shed tears at any action is the same guy who murdered tons of people. This adds a layer of depth (and humor) to his character but it's a tad predictable. It was hilarious to see Doug feel torn over killing Callie (especially since she was kind enough to adopt him) but the situation reeks of the "beware the silent ones" trope a little too much. Despite this one small flaw, this episode holds barrels of humor that all somehow connect to classic Medieval fantasy. The dragons struggling to mate not only makes perfect use of Mark's counselor job, but also seems to be a shout out to those crazy dragon fetishists on the Internet. Yeah, I just made you think about dragons mating. And now I'm making you think this was a good episode and that you should catch it on reruns. Now go wash your brain with chlorine. Those brain cells need some killin.'