When a beloved show is either cancelled far too early (see: Arrested Development, Party Down) or hits the final turn of a longer run (The Sopranos, The X-Files), the topic of a movie that carries the story and franchise on inevitably comes up.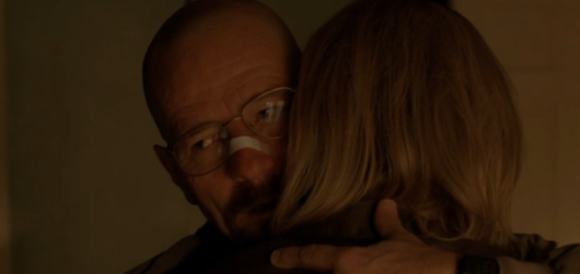 In the case of Breaking Bad, which debuted its fifth season last night (the 16-episode season will air over this summer and next), I'm surprised that there is any chance at all for this to happen as the series arc seems to point pretty brazenly to some final conclusion, with furious karmic retribution for bad breaker-in-chief Walter White (see: 14 ways that Walter White could get got) very likely.
However, series creator Vince Gilligan left the door open to a Breaking Bad movie during a Comic-Con panel:
"I love the idea of it, and I learned a long time ago, 'Never say never.' But I have to say that my writers and I intend to tell every bit of story we can tell in this final sixteen. So, at this moment in time, I would say that the odds are a bit remote. If we were – a year or two down the line – think of something else we could do, or if there's anyone else left standing when the dust is cleared, who knows? Your guess is as good as mine at this point."
So, let's be realistic here and take Gilligan at his word that when "every bit of story" is told, it will be the end of the line – metaphorically or mortally – for some of the characters we've come to love (or love/loathe, depending).
In many ways, more fascinating than a Breaking Bad film that more or less continues the story as we've come to know it over four-plus seasons would be a "spin-off" of sorts that tracks a character or characters who make it out of whatever Judgment Day scenario follows Walt's 52nd birthday breakfast at Denny's.
Perhaps this could mean following Jesse Pinkman as he tries to put a new life together – and avoid drugs and drug dealing – in a new city, or Mike as he latches onto a mob gig in Vegas or LA. But my vote would go for the continuing misadventures of Saul Goodman. Imagine the case load we'd see coming into his bizarre inner-sanctum of an office?
Scratch that: we need a Saul Goodman spin-off television series. The world needs more of Better Call Saul.