I never thought I would be writing this, but TLC – producers of such sterling programs as Toddlers and Tiaras and My Big Fat American Gypsy Wedding – may have outdone themselves with the spectacularly and hilariously exploitive Virgin Diaries.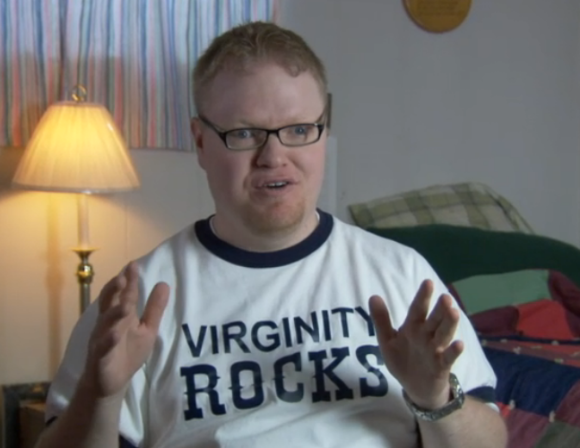 Virgin Diaries follows a number of virgins in various virgin situations – the live-at-home virgin, the never-met-the-right-dude virgin, the won't-unvirgin-'till-I'm-married virgin, and so on. Forget all of that though, and forget everyone but one. The only thing that matters is Skippy.
Skippy tells us, "I am 34-years old and I live in my parents' basement." He also lets us know that he has been on "between 500 and 600 first dates." And then he lets us in on a great many other details of his life, such as:
Skippy has been collecting belly button lint for the last 15 years.
Skippy has a "wing-mom."
Skippy gets his non-ironic workout on with a Shake Weight.
Skippy has a bunch of Skippy t-shirts (example: Got Skippy?) and hands out "I love Skippy" stickers to girls (pointed out to him by wing-mom).
Skippy likes to ask girls "what if" questions, explaining that the answer is yes. "If you wanted to kiss me, the answer would be yes," and so on. Thus far these questions seem to be chiefly hypothetical.
Skippy provides us with his (un)worldly wisdom: "Every good first date is a potential make-out."
Skippy's room (in his wing-mom's house) includes such treasures as a) a poster of The Osmonds b) his belly button lint collection.
Skippy explains that sometimes he gets horny and wants to kiss girls…. roughly. "Not talk to Bishop, rough," he explains. Wonder if he's talking about the Android character from Aliens?
What's it all mean, then?
Skippy is a television star of the train wreck reality TV age. I honestly can't get enough of the Skippy.
What else did we learn?
We learn that 29-year old Karissa's mom was a "big slut" back in the day.
She also ends up getting her "hoo hah" waxed in what looks like a dungeon.
I like that we get to see Skippy blow drying underneath his Virginity Rocks t-shirt prior to the interview.