There was a moment during "Felling and Swamping," last night's installment of Weeds, the second episode of its sixth season, when I thought maybe I was wrong. But then, no, I wasn't.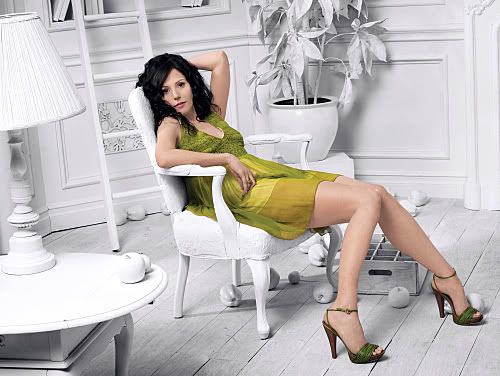 But let me back up a few ticks. I've been a longtime fan of Weeds, dating back to when I was lucky enough to attend its premiere (along with the shorter lived Barbershop). But after getting over the relative thrill of hobnobbing in the relative vicinity of Mary-Louise Parker and Kevin Nealon, I found the show to be fresh and quirky and funny. And it has been influential in its way on other half-hour paid cable shows that attempt to walk the line of drama with a dash of comedy, such as Nurse Jackie, or comedy with a splash of drama, such as Hung or Californication.
Over the course of five seasons Weeds explored a lot of territory, thematically and, more recently, geographically, as the show shifted location from its iconic southern California suburban roots in the fictional town of Agrestic to the border town of Ren Mar. As Nancy Botwin (Parker) and fam jumped from one dicey situation involving the drug trade and its fallout to another, I've found myself waiting for… something. That is, Nancy has seemed on the verge from time to time of coming to terms with the fact that she has inalterably shifted her family's trajectory through her decision to enter the drug trade.*
* Let's remember that Nancy is a pot dealer, which puts her many karmic and moralistic leagues apart from Breaking Bad's Walter White and his decision to become a meth lab kingpin. That said, Nancy's dealings have put her in the way of many dangerous characters and situations (and, occasionally, the law) as the show's writers have seen fit to create.
So over the last few seasons, I felt a growing sense of unease that while Nancy began to understand what a terrible mother she has been, she either didn't have the time to deal with it or didn't care enough to do much about it. Meanwhile, youngest son Shane (Alexander Gould) had been acting… well, oddly, over quite a stretch of episodes. It was a way of showcasing the effects of his mother's lifestyle and neglect, but at the same time Nancy seemed intent on not dealing with it. She knows how compartmentalize, sure, but her relationship with Esteban in particular felt unserious and a bit tawdry in light of what was going on on her homefront.
Enter the sixth season premiere, and we see Shane kill Nancy's enemy-of-the-moment with a croquet racquet. This, to me, is a big deal. A very big deal.
It was a big deal enough for Nancy, a skilled survivor as we've seen, to pack up the family (including Andy Botwin, played by Justin Kirk, who has been especially terrific this season it must be noted) and hit the road. "Thwack" (nice, right?) dealt primarily with this forced exodus. So, this week, I felt sure, we had to see some kind of serious sign from Nancy that… her child is a murderer. Like, he killed a lady. And doesn't seem to get that he really killed a human being and she ain't coming back, and so on and so forth.
Nancy (or whatever her name is now that the Botwins have changed their name to the Newmans) finally pulls the car over and yanks her disturbingly happy-go-lucky son outside for a talk. Good, I thought. Finally.
But this is where things went horribly wrong. After a half assed "you don't do these kinds of things, I do" kind of speech, Nancy goes so far as to give her son, an adolescent, a fake spank (singular) for the benefit of Andy and older son Silas (Hunter Parrish).
Let's put this in some kind of perspective, okay?
What do you think Tony Soprano would do if A.J. or Meadow murdered someone to protect him? Yes, when sister Janice offed her abusive wiseguy boyfriend he cleaned up the mess and put her on a bus to Seattle (just where the Weeds gang seems to be headed, ironically), but if his children had clipped someone, forever soaking themselves in the same criminal element that he swore to protect them from, don't you think that he would act… well, a little bit more like a parent who discovers their child is a murderer?
I guess what I'm saying is that while I've been a fan of Weeds for a long time, I don't get the sense that Nancy Botwin is acting like a mother who discovered her child is a murderer. And I find that troublesome and distracting instead of my traditional feeling of, Oh, let's see what the wacky Weeds gang is up to this week what with their weed dealings and oddball entanglements and such.