Quick Take: Weeds, "Fran Tarkenton"
"Who killed Pilar Zuazo?" - Vaughn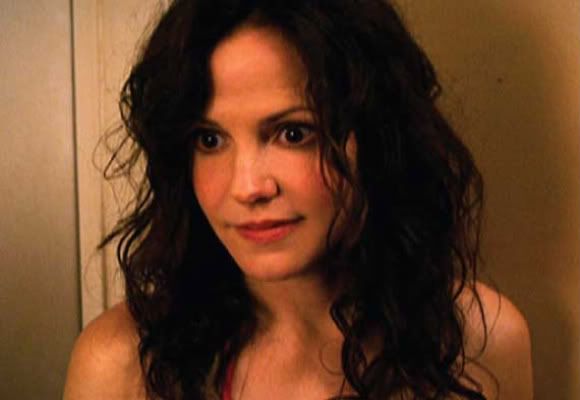 Review: Weeds, "Fran Tarkenton"
(S0612) Are we far enough removed from Forrest Gump so that we can start quoting the movie again and not come off hackneyed? Probably not, but screw it, I'm going to go for it. Weeds is like a box of chocolates, you never know what you're going to get. Yeah, still too soon... Sometimes the show is funny, other times sad. Sometimes it's sharp, other times it seems to have no idea where it's headed. "Fran Tarkenton" fell somewhere on the morose, yet action-packed corner of the continuum. And since it is the penultimate episode, it served as a hell of a set-up piece for the season finale.
In terms of format, the episode was very similar to last week, with Nancy (Mary-Louise Parker) spending most of her time with Vaughn the journalist (Eric Lange), Andy (Justin Kirk) still trying to rustle up some passports, Silas (Hunter Parrish) stewing over the Lars (Rick Ravenello) paternity situation and Shane (Alexander Gould) hanging out at home with Mr. Schiff (Richard Dreyfuss). After Doug (Kevin Nealey) rolled out in "Viking Pride" to retrieve his passport, I sort of expected to never see him again. But he was back, and in a place that I really expected to never see again; Agrestic (or Regrestic as it is now called).
The whole "Doug returns to Agrestic" business felt a tad superfluous, but I guess it provided the episode with some much needed levity. Upon arrival at his old house, Doug discovers that a lot has changed in his absence. His kids don't seem to remember him and his wife has remarried an extremely classy and well-traveled black gentleman named Wilfred (Beau Billingslea). ("You married Uncle Phil from the Fresh Prince of Bel Air, that's an obvious cry for help.") Doug, ever oblivious, doesn't realize that his family has moved on. He decides it is his mission to stay in Agrestic, sorry Regrestic, and mess things up for everyone all over again. I may have jumped the gun a little bit last week, but now I'm almost certain Doug is gone from the show.
Andy and Hooman (Assaf Cohen) stage the latter's death in front of a video camera Al Qaeda-style and Mahmud (David Diaan) seems to buy it. The only problem is that he wants more proof, and by more proof I mean he wants Andy to cut off Hooman's johnson and bring it to him. ("Bring me his dick, then you get the passports." Weird.) This sends Andy and Hooman off to the morgue in search of a male member. The morgue attendant is surprisingly helpful, offering to remove the penis from the corpse and put it in some kind of fluid to keep it fresh for them. The jig is up, though, when Andy brings the container to Mahmud who immediately recognizes it as an impostor. It turns out that Hooman exaggerated his endowment and the penis Andy brings is a "magic marker and Hooman has a crayon." Luckily, Mahmud's wife takes pity on Andy and offers to sell him the passports for $5,000. Now all he has to do is come up with the cash.

Schiff is doing his part to scrounge up some dough for the trip (which he has invited himself along on) by raiding a cache of packages and Christmas cards he has hoarded in a spare room, pilfered from residents on his mail delivery route. When this fails to yield much of a windfall he decides to stop nibbling around the margins and go straight for the source; he robs the Post Office. Using the cash from the robbery, Schiff buys plane tickets and then hints pathetically that fellatio would be a great way for Nancy to express her gratitude.
The Schiff and Andy and Doug stuff were all well and good but the real meat of the episode was the Nancy/Vaughn interview. I must have missed it last week, but apparently Vaughn offered Nancy $5,000 (or something close to that amount) for her story. For some reason I just remember him saying that she would get a chance to expose Esteban. Either way, Nancy really needs the money so she agrees to the interview. She starts out with lies about being a swinger (Fran Tarkenton was her safe word) and half-truths about burning her house down. Vaughn isn't interested in any of this nonsense. He wants to know "who killed Pilar?" He has some theories of his own, pretty damn good ones. When he raises his suspicions about Shane, Nance neither confirms nor denies but the look on her face tells him everything he needs to know. She tries to turn the tables on him with uncomfortable questions about his ex-wife but with no success. When he catches her in another lie she gets pissed, starts throwing stuff around the room and breaks his camera. "I don't need you anymore, I'll write whatever I want," he says before calling her a few choice words and kicking her out. She begs to get back in and eventually he relents. We don't actually get to see the interview, but we are supposed to assume (I think) that she told him the truth. He shuts the tape recorder off and give her some advice. If he was able to put the pieces together regarding Shane's involvement in Pilar's murder, then surely the FBI will too.
Nancy arrives home to Schiff's place exhausted and crashes. Soon, she is bombarded by Schiff waving plane tickets and begging for BJ's and Andy describing his wishes for his funeral (the time he spent around all that death at the morgue got him thinking about his own mortality). She ignores them, but is unable to ignore Silas who climbs into bed talking about how he used to love to lay next to her and Judah. At least he doesn't have to worry about dropping dead at forty, Lars' is in great shape, he says. Nancy appears confused until he hands her the paternity test results and kisses her goodbye. Like forever goodbye. Like I'm not going with you to Copenhagen, have a good life goodbye. Like I'm going to go back over to Lars' and play Guitar Hero with my new dad goodbye. This is too much for her, she starts to sob and then goes to sleep.
She is stirred awake when an urgent text message from Vaughn arrives telling her that he has some important information from an FBI source for her. The message asks her to stop by the motel before she leaves town. When she opens the hotel room door the place is trashed and Vaughn is nowhere in sight. In his place are Esteban (Demian Bichir) and Guillermo (Guillermo Diaz). And they look pissed. Now, don't get me wrong, this was a great ending but it was kind of spoiled for me because Demian Bichir and Guillermo Diaz were both listed in the opening credits and by the time the end of the episode rolled around and we hadn't seen them yet it was pretty safe to assume who would be in that motel room. I know, I'm picking nits, but that's just what I do.
In the final scene, Esteban holds Vaughn's tape recorder, from which Nancy's voice can be heard rambling almost incoherently. But one phrase stuck out; "Why would you not want to know?". Which, in context, I interpreted as "Why would you not want to know [what's on the other side of the tunnel]." And I am assuming this is in response to a question Vaughn asked her about what made her decide to stop folding clothes and walk down the tunnel in the back of the store/front for her pot business. If this interpretation is accurate, it raises some very interesting questions about what motivated all of the horrendous decisions Nancy has made (and continues to make). If she is ever to see the inside of a courtroom I'm sure she would argue that everything was to protect her family. But if she is being honest with herself, she may admit that she did most of it on a whim. Why not walk down that tunnel? Why not sell pot for a living? Why not douse my living room in gasoline and toss in a match? Why not pull a sign off the wall the of a bar, stomp around on it and then bone a married man you just met? If all of the twisted shit she has been a part of is a result of her impulsiveness and not because of some combination of sadism, masochism and bad luck, does that make her more or less of a monster? I would argue more.