Quick Take: Weeds, "Game-Played"
As terrific an actress as Mary-Louise Parker is, would Weeds be better off without Nancy Botwin at this point?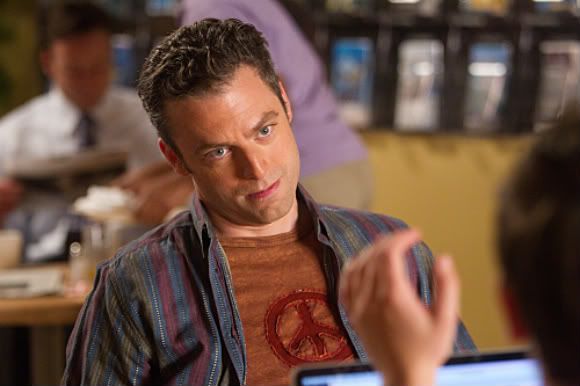 Review: Weeds, "Game-Played"
(S0703) It's not that I don't like Weeds. Not completely, anyway. And I certainly don't hate it. I do believe that I mostly find it baffling these days and that feeling creates some sense of involvement and attachment to the Botwins (plus Doug) and their ongoing misadventures.
I still can't help but believe that Nancy Botwin (Mary-Louise Parker) became an irredeemable and despicable character right around the time she handled her son Shane's (Alexander Gould) transition into a full-fledged murderer in her typically self-interested and half-assed manner.
I get that we're sort of kind of supposed to forget about that now that we are in this brave new seventh season. Esteban is dead, Nancy has been in the clink for three years, and the boys have returned from Copenhagen to New York so as to give the franchise a reboot and rekindle the memory of days long past when this show worked remarkably well as a dark and quirky comedy about an attractive mom who sells marijuana to get by.
But because of all that has happened in between I now tune out whenever the show broaches anywhere near truly dramatic territory. When Nancy gets (kind of?) weepy when talking about her son's cruel tenure in the custody of sister Jill (Jennifer Jason Leigh) or (kind of?) cute in telling Andy (Justin Kirk) that her time in jail has only proved to her that she needs to "fail better" as a criminal, I'm left a little cold.
And quite frankly the fact that Nancy seems pleasantly blasé about her time in prison and time away from her family and mostly half-assed about sticking to the rules of the halfway house (where infractions can in theory land you back in jail quickly) makes me want to shake the woman and scream: get your act together, get out of jail, and do something that even vaguely resembles acting like a responsible person for once!
So alas, I tend to mostly ignore the dramatic bits.
I realized recently that I keep watching mostly to see more of Andy (Justin Kirk) and Doug (Kevin Nealon). Getting scenes where we can watch them outside of the Nancy orbit do remind me of earlier and better days. Doug's new corporate buddy saying with reference to his bizarre and chipper suit, "Is this jacket orange chenille? And the shoes, you're like a f—king elf prince!" was the funniest line of the episode, and I look forward to seeing more of his attempt to act the part of an accountant once again.
And Justin Kirk keeps getting better each season. Andy's longing for Nancy is one of the few dramatic elements of Weeds that still works, and his comic timing is always delightful.
I guess what I'm saying is: as terrific an actress as Mary-Louise Parker is, would Weeds be better off without Nancy Botwin at this point?