Quick Take: Weeds, "Gentle Puppies"
Not even Zack Morris can save this.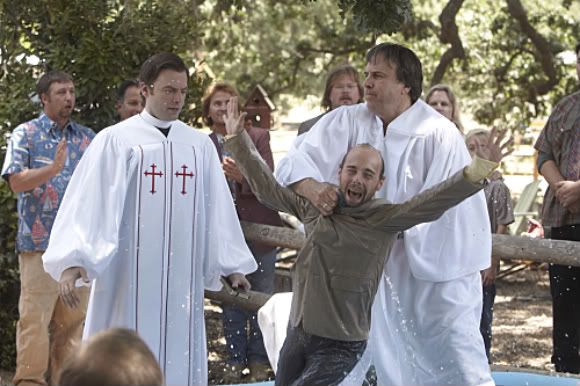 Review: Weeds, "Gentle Puppies"
(S0608) If I had a sobriety journal I'd break that sucker out and start writing an entry titled "Why I'm Quitting Weeds." I can no longer defend you, Weeds. For seasons now, people have accused you of jumping the shark. No, I would argue, the show has just evolved. It has simply morphed into something darker. Its still worth watching, I would insist. Boy, have you made me feel like a douche bag. If you are still interested in Weeds coverage, here's a list of publications that do it well.. ahhh, who am I kidding, no one is covering this show anymore.
"Gentle Puppies" was a bad episode, plain and simple. It was self-indulgent, pointless, and not funny in the slightest. The writers don't seem to have a clue where to take the Botwins. And worse, they seem to be content to let them meander. And meander they do. This time in an RV purchased from the wife of a pervert pastor arrested for embezzlement.
They end up in a podunk, off-the-grid, RV park where Andy proceeds to adopt the persona of an evangelical preacher. He becomes quite popular in their new community. He even performs a baptism in front of an adoring crowd. While the attention is great, he and Shane are even more pumped when they empty the collection jar and discover that they have collected several hundred dollars from their new flock.
Nancy, meanwhile, ventures off the reservation in search of a little sexual healing. (Because, as we all know, nothing stimulates the libido like being stuck in close quarters with relatives and a guy as good looking as Kevin Nealon.) She stumbles across a saloon owned and operated by none other than Zack F-ing Morris! At the bar, Nancy does what she typically does, meaning whatever the hell she feels like doing at any particular moment in time. While Jack (Mark Paul Gosselaar) busies himself around the saloon cleaning glasses and sweeping, she pours herself drinks, takes signs off the walls and stomps on them, and basically acts like a crazy person. All of which, of course, leads to violent sex. Because, ya' know, why wouldn't Zack Morris viciously pound some random lady atop the bar for helping herself to a shot of whiskey?
But alas, all good things must come to an end. Nancy learns that Jack is married when she wakes up to his wife beating on the side of their RV and the guy that Pastor Randy (Andy) "saves" returns to smoking meth. The combined impact of both incidents causes the townsfolk to turn on the Botwins, chasing them out of the park and back out onto the road.
The real shame of this episode is its squandered potential. Mark Paul Gosselaar is no Jerry Seinfeld, but he is a legitimate television icon nonetheless. You can't convince me that a single sex scene, no matter how steamy, is an appropriate use for him. He barely had two lines of dialogue and zero backstory aside from a tidbit about his father owning the bar before he died. It felt like a complete waste. Ditto for the "Pastor Randy" bit. A Jew pretending to be an evangelical minister has the potential to be a comedic goldmine, especially if that Jew is Andy. Justin Kirk does a hilarious southern accent and with Shane as his alter boy and Doug as his business manager the possibilities are endless.
In related news, Deadline reported earlier in the week that Weeds creator, Jenji Kohan, is developing a new half-hour comedy for Showtime. The show, which will be titled Whales, is said to be about a group of young poker geniuses from Harvard who move to Vegas in hopes of winning the World Series of Poker. Way to be current, Jenji. I'm working on a script for a show about a bunch of community college drop-outs who play in Pogs tournaments on the weekends. You interested, Showtime?
Review: Weeds, "Gentle Puppies"
Check out a clip from the episode called "No Smoking," from Showtime: