As the premiere date of Weeds' seventh season approaches, details about the plot and new cast members have started to trickle out. Despite the bitching and moaning I did in a lot my reviews last season, I'm actually really excited for new episodes of Weeds. Let's take this opportunity to look back on last year and discuss what we know about the upcoming season.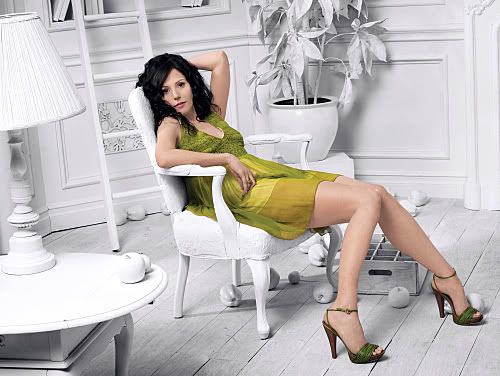 The sixth season sagged a bit in the middle, but the action really picked up in the later episodes and culminated in a terrific finale. When we last saw the Botwin clan, things were a bit up in the air. Literally. Andy (Justin Kirk) and the kids were on a plane bound for Copenhagen to start a new life Europe. Nancy (Mary Louise Parker) turned herself into the feds in order to escape the deadly clutches of her Mexican drug-lord babby-daddy, Esteban (Demian Bichir). In my review of the finale, I wondered about how the show would deal with the splintered family going forward. I also questioned Nancy's decision to leave her baby in the custody of either her violent ex or foster care during her inevitable incarceration.

It seems that Weeds has concocted a clever way of dealing with both of these issues. The season will begin three years after the incident at the airport, with Nancy's release from prison. The rest of the family, having laid sufficiently low, will rejoin her and attempt a fresh start in New York City. By skipping the incarceration and emigration bits the writers are able to avoid the potentially clunky scenario of parallel storylines (one storyline that follows Nancy to jail and one that follows Andy, Silas (Hunter Parrish) and Shane (Alexander Gould) to Copenhagen). Regarding Stevie, aparrently he has been living not with strangers or with Esteban, but with Nancy's sister, Jill (Jennifer Jason Leigh).

Along with Jennifer Jason Leigh, Season Seven will feature a bevy of other guest stars. Topping the list is Martin Short, who will play an "eccentric attorney." Also keep an eye out for Aidan Quinn, star of NBC's upcoming show, Prime Suspect, as "a charismatic investment firm CEO in at least four episodes." I'm most excited about the casting of Pablo Schreiber (The Wire, Lights Out), who is establishing quite a little television career for himself as a versatile character actor. Schreiber's character is described as "an army supply sergeant and brother of Nancy's former cellmate." Other guest spots include: Lindsay Sloane as an artist, David Clennon as Lindsay Sloane's husband, Olga Sosnovska as Nancy's cellmate, and Gary Anthony Williams as a counselor at the half-way house where Nancy lives after her release from prison.