Quick Take: Weeds, "Theoretical Love Is Not Dead"
"I wanna get to know my sperm daddy." - Silas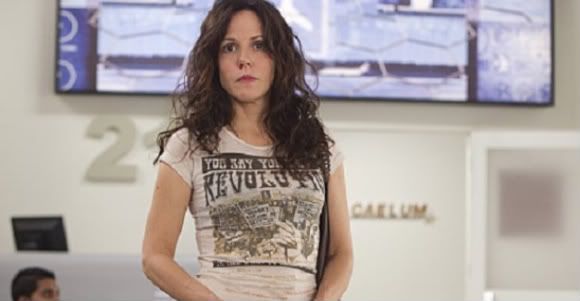 Review: Weeds, "Theoretical Love Is Not Dead"
(S0613) Season Six of Weeds was quite a journey, huh? And what better way for that journey to come to an end than at an airport.
It took me a minute to remember exactly how we ended up where we did in the finale. I remember last season ending with Shane smacking Pilar upside the head with a croquet mallet, then the Botwins skipped town, ended up in Seattle, became the Newmans, started working in the hospitality industry, skipped town again, traipsed around the country for a few too many episodes, ended up in Dearborn, met Warren Schiff (played by Richard Dreyfuss, who has been a fantastic surprise, by the way) and Vaughn the journalist and got in trouble with Esteban and Guillermo again. Did I forget anything? I'm sure I did. Looking back, perhaps I was a little bit too harsh during the middle part of the season when I threatened to quit watching the show because nothing was going on. Hell, compared to Sons of Anarchy, a show that I love but which has been completely consumed by a single storyline, Weeds had an extremely eventful season. And in half the time.
The truly amazing thing about Weeds is that it has been able to shift from satirical, stoner sitcom, to dark, family drama and maintain its half-hour long format. It's one thing for a network comedy to fill 22 minutes with jokes and shtick, but it has to be really tough to try to tell an actual story with an arc and emotional depth with that time constraint. I can't really think of any other current examples of half-hour dramas, can you? So if I were to judge "Theoretical Love is Not Dead" like a boxer, I guess I would have to say that pound for pound, minute for minute, it was a pretty damn good way to end the season. And while I still contend that Season Six as a whole had major problems, DVD viewers might find these to be less annoying when thewarry are able to cruise through the episodes one after another instead of having to wait a week between them..
Weed's finales have often been game-changers. Since Season Three, when the show really moved away from its original "weed-dealing mommy, isn't she funny" conceit, the final episodes have always aimed to shift the paradigm for Nancy and her boys. In Season Three, Nancy burns her house and takes the town down with her. In Season Four, she tells Esteban that she's pregnant in order to keep him from murdering her. In Season Five, Shane becomes a killer. These finales have certainly served their role in forcing the action forward. And while I can't say I necessarily agree with all of the decisions the the writers have made regarding the characters on this show, you have to give them credit for having the balls to bail on Agrestic after three seasons.
While we are handing out kudos, let me give props to the actors on this show for giving excellent performances pretty much all season long, and in particular in the finale. Everyone knows how good Mary-Louise Parker is, but the supporting cast deserves some love too. Justin Kirk is just great. He is by far the funniest member of the cast. I don't care what anyone says, he blows Kevin Nealon out of the water. He isn't called upon to do serious dramatic stuff often, but when he is he delivers. If last season was Alexander Gould's break-out year, Season 6 belongs to Hunter Parrish. He completely revived Silas, providing depth to a character that was floundering in "pretty-boy purgatory."
So, let's get to recapping, shall we? Last we left Nancy, she was in Vaughn's motel with Guillermo and Esteban. Well, this week we are back in the hotel room, but only long enough for Guillermo to chloroform Nancy and stuff her into the trunk of a car next to Vaughn's corpse. Nancy, being Nancy, screams until Esteban and Guillermo get so annoyed that they let her sit in the back seat. Esteban however is in no mood for Nancy's games. He has traveled a long way and he wants his son back. He slaps Nancy when she gets too lippy, drawing blood. "I remember when you used to hit me and it was sexy," she says. He has no time for trips down memory lane (even if those trips involve spankings in limousines). Esteban knows where Andy and the kids are and his is headed their way.
Andy and the rest of the gang, of course, have no idea that Nancy has been captured or that their lives are in danger. So they are taking their sweet time getting to the airport. First order of business; say goodbye to Silas. He has decided to stay in Dearborn and not go to Copenhagen. "I wanna get to know my sperm daddy," he says, not intending it to sound as gross as it comes out. It is through Silas, not Nancy, that the writers finally (and halfheartedly) address an issue that could have been an major one this season but wasn't. I have been harping about it all year. Shane is a homicidal maniac and everyone wants to kind of sweep it under the rug, no one more so than Nancy. Well Silas can't leave without mentioning it. Silas sums everything up with a piece of brotherly advice, "Don't be a dick." So going forward, if Shane is normal, the show can use this scene as evidence that it did deal with issue, even though it didn't really.
So Andy, Shane, Schiff, and the baby head to the airport, thinking that Nancy will meet them there. At security they run into a snag trying to get Stevie through customs without his mother, but Andy has planned ahead and written a note with Nancy's forged signature giving him permission to leave the country with the child. Esteban, also at the airport, is having problems of his own getting through security, what with him being a foreign national and all. This comes after Nancy is able to sneak away to clean up her nose (still bloody from Esteban's smack) and use a concerned maid's cell phone to alert Andy and tell him to go to "Plan C." When Esteban is being questioned, Nancy slinks backward and through the crowd to her awaiting family.
Andy and Nancy's reunion at the gate is short lived when she discovers that Silas isn't with them. Andy says they can go forward with their original plan, "Plan A," but Nancy is sticking with "Plan C," which at this point clearly involves her staying in America. Andy is clearly crushed, barely unable to keep his emotions in check. When Andy boards without Nancy it is Shane's turn to freak out and he tries to deplane, making some dumb excuse about needing gum. "She's not coming back, is she?" he asks. Andy tells the truth, no.
The inflight musical chairs continues when Esteban and Guillermo show up at the gate (I guess they weren't detained by TSA) with Silas, who apparently had a change of heart about the whole getting to know his sperm daddy thing. Nancy swaps Stevie for Silas and sends Silas onto the plane to join his brother, Andy, and Schiff. Before boarding, Silas looks at his step-father and says coldly, "When you kill her, let us know. For closure." He has no illusions about what is in store for his mother.
Once Esteban has his son back, he will have no use for Nancy or her family. She just wants to make sure they are safe. As she watches the plane take off she knows that her time on Earth is short. Esteban and Guillermo flank Nancy as they walk through the terminal. She asks what she can do to get them to spare her life but they don't waste their breath with a response. Nancy eyes every person that walks by. "Is this the person that is going to kill me?" she seems to the thinking.
But no, that's not what she's thinking at all. More likely she's thinking, "Is this person the undercover FBI agent that is going to save my life if things get ugly?" Because as soon as the trio reach the exit of the airport we find out what Nancy meant by "Plan C." The exit is swarming with Feds. And they are all waiting to arrest her. She must have called the FBI on herself and chances are she told them that Esteban was helping her escape just to screw with him one final time.
So how does this set things up for Season Seven? Will there be a Season Seven? Has to be, right? So Andy and the kids start over in Europe while Nancy faces the music in the States? How will this effect the format of the show? Will we basically have two shows, one in Denmark, the other in an American prison? Maybe the writers will concoct a Gemma situation for Nancy and she will be able to flip on Esteban. I find it interesting that "Plan C" involved giving up Stevie to Esteban, or possibly state custody if he is arrested as well. It's strange how little connection Nancy felt to the baby even while sacrificing herself for her older children. Lots to think about. Please post your thoughts/questions in the comments section.
Other thoughts:
As much as I dug the episode, this is what I was thinking the entire time and I'm sure you were too: no freakin' way TSA or the Air Marshals or Homeland Security or whoever is in charge these days doesn't ground all flights in and out of the airport with all of that funny business going on in the terminal, right? No chance that the plane with Andy, Silas, and Shane takes off.
I am really going to miss Warren Schiff. He was creepy as hell but, boy, did he grow on me. I would watch a spin-off show with him, Shane and the infant just hanging out.
Video: Weeds, "Theoretical Love Is Not Dead"
Check out a clip from the episode, called "Follow My Lead," from Showtime: