Japanese whalers beware:, Paul, Chuck, Pete and the rest of the Sea Shepherd crew are back out on the high seas and they are gunnin' for ya!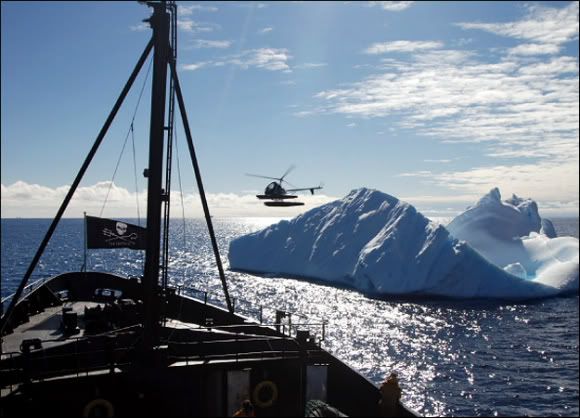 Whale Wars returns to Animal Planet this evening at 9:00 PM for its fourth season, with its debut episode titled "Operation: No Compromise." The season was filmed during the winter, between December and February, and is scheduled to air on Fridays this summer.
Whale Wars follows a group of nautical animal rights activists, led by Sea Shepherd Conservation Society founder Paul Watson, as they hunt down and harass the living hell out of Japanese whaling ships off of the coast of Antarctica. Watson and company use all sorts of techniques to annoy and deter the Japanese whalers, including drive-by (or I guess boat-by is more accurate) paint balling, stink bombs filled with butyric acid, cover-of-night boarding, and good old fashioned ramming.
In Season Three, Sea Shepherd employed a fleet of specially equipped ships to combat the heavily guarded and well-armed whaling vessels. The mothership is The Steve Irwin, named after The Crocodile Hunter, the famous animal advocate who was killed by a stingray while filming a documentary. The Ady Gil, named after a wealthy donor who provided support for the project, was an environmentally friendly boat that held the world record for circumnavigating the earth. Also in the fleet was The Bob Barker, purchased with funds donated by the famous Price is Right host and pet lover. Season Four will feature a new, state of the art vessel -- an interceptor call Gojira, which means Godzilla in Japanese.

Fun Fact About The Whale Wars Crew:
The Chief Cook of Sea Shepherd is Laura Dakin, former personal chef for Anthony Kiedis, lead singer of the Red Hot Chili Peppers.
For more information about Whale Wars and to catch up on highlights from past seasons, check out the Animal Planet website.