My journey began pretty innocently. I was checking out the latest rumors that comedian Dave Chappelle might finally be fully emerging from his long period of near-seclusion to reclaim his place among the very best comedians and performers on the comedy circuit today.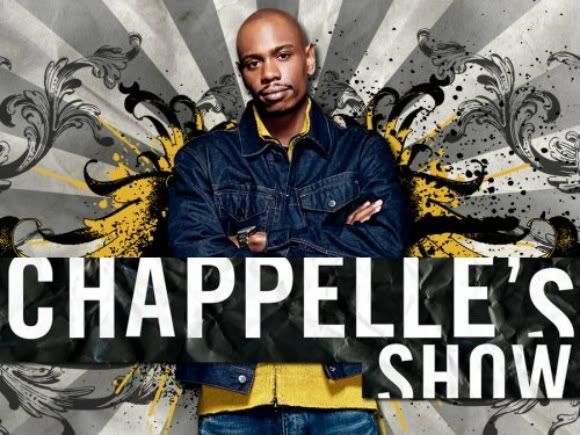 Chappelle, of course, is the mastermind behind the brilliant and short-lived Chappelle's Show, which ran on Comedy Central from 2003 to 2005. What struck me as fascinating in the LA Times Show Tracker piece was an aside about how at the time, the Chappelle's Show Season 1 DVD became the best selling TV on DVD of all time, topping The Simpsons.
This lead me to think about what the best selling TV on DVD of all time is today. And therein my quixotic journey began.
In short, there is very sketchy data about this that's publicly available about this, so please take the below as a sketchy and educated guess, and I invite you to help us update this information so that we can try to put together the most accurate picture that we can.
Additionally, keep in mind that we're talking DVDs here, so this obviously excludes Blu-ray, VHS, and the countless ways that you can download and consume television content today. That said, because DVDs were the predominant format to watch television series post-broadcast for many years – even now, I can glance over at my entertainment console and see stacks of The Sopranos, The Shield, Mad Men, and so on staring back at me – I think it would be interesting to have an accurate read on what the all time top sellers are.
More notes and caveats: a lot of the below was pulled from The Numbers, which helpfully shows the top 100 DVD sales yearly from 2007 and 2012. I went through and selected the TV on DVD titles from these lists. Only one title, The Original Television Christmas Classics, appeared on a yearly list more than once. So therefore an obvious unknown during these years is the compiled numbers for those DVDs beyond the 100 mark. It's possible that there are titles that consistently sell and cumulatively would make this sort of list, but we don't have enough data on this at present.
Pre-2007 things get even hazier I'm afraid. There are a few sparse top sales lists, but they don't provide any unit sales that would be helpful here. For the data that we do have, I used unit sales, by the way, as opposed to revenue so as to avoid worrying about accounting for inflation.
So we know that Chappelle's Show Season One was reported as the top selling TV on DVD of all time in late 2004, and then we have a gap until 2007 where we are able to put together some reasonably solid figures around top selling TV on DVDs by year from there. The frustrating thing is that I looking at overall sales figures, it's clear that overall DVD sales – movies and TV – start to decline near the end of the last decade, meaning that clearly things like Blu-ray and downloads started to shake things up around that time. And therefore it's likely that 2005-2006 was a very robust period for DVD (and TV on DVD) sales, wherein it's possible there are some high selling titles that may have made this list: Dexter, The Office, The Sopranos, Band of Brothers, and so on.
In any event, let's get to what we do know… which is that based on what we do know, Planet Earth - The Complete BBC Series is the best selling TV on DVD by virtue of selling more than 2.5 million units in 2007. And here's the full list as currently compiled:
Planet Earth - The Complete BBC Series (2007) – 2,656,702 units
The Original Television Christmas Classics (2007, 2010) – 2,454,540 units
Chappelle's Show Season 1 (2004) – 2 million+ units
The Simpsons – n/a
True Blood: The Complete First Season (2009) – 1,780,500 units
Heroes - Season One (2007) – 1,597,185 units
The Pacific (2010) – 1,488,763 units
Star Wars: The Clone Wars (2008) – 1,231,232 units
The Big Bang Theory: The Complete Fifth Season (2012) – 1,224,792 units
True Blood: The Complete Second Season (2010) – 1,159,509 units
Family Guy Presents - Blue Harvest (2008) – 1,141,575 units
Office, The - Season Four (2008) – 1,057,620 units
True Blood: The Complete Third Season (2011) – 980,227 units
Glee, Volume One: Road to Sectionals (2010) – 976,653 units
Game of Thrones: The Complete First Season (2012) – 975,394 units
Downton Abbey: Season Two (2012) – 952,279 units
True Blood: The Complete Fourth Season (2012) – 935,770 units
The Office - Season Five (2009) – 916,388 units
Glee: The Complete First Season (2010) – 888,390 units
Dexter: Season Four (2010) – 882,737 units
The Walking Dead: Season One (2011) – 804,403 units
The Big Bang Theory: The Complete Fourth Season (2011) – 789,735 units
Hatfields and McCoys (2012) – 726,115 units
Some final thoughts:
There are no reality shows on this list.
Background on Planet Earth, via Wikipedia: "Five years in the making, it was the most expensive nature documentaryseries ever commissioned by the BBC, and also the first to be filmed in high definition. The series was co-produced by the Discovery Channel and NHK in association with the CBC, and was described by its makers as 'the definitive look at the diversity of our planet'."
Heroes' appearance on this list somehow seems to be the most anachronistic entry of them all, doesn't it? While the first season did show great promise, there have to be a few people out there saying, "What was I thinking?"
Even with the availability of HBOGO for HBO subscribers, Game of Thrones Season One managed to make the list. Interest in Westeros and beyond remains high ahead of the Season Three premiere later this month.
True Blood makes four separate appearances. Good news again for HBO and yet another example of how interest in vampire stories and the like remains bitingly strong.