Is it fair to compare AMC's smash hit zombie-fest The Walking Dead with new NBC show Revolution?
Both are set in a post-apocalyptic version of the United Sates. The Walking Dead takes a gritty and serialized slant on the "classic" zombie tale while Revolution poses the rather novel question of what would happen if all electricity and power shuts down (including anything battery-powered, mysteriously) forevermore.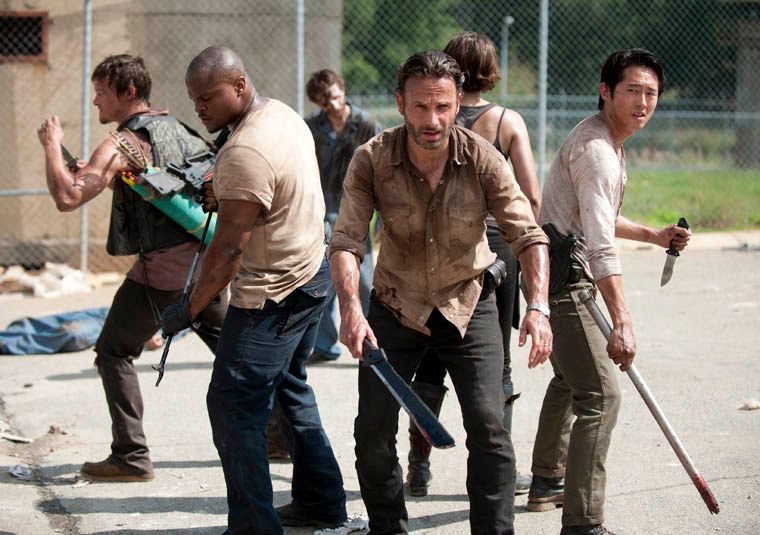 Because both are airing currently – The Walking Dead has just kicked off its third season (to record ratings) while Revolution is five episodes into its freshman season – I found myself judging one against the other over the past week.
And mostly the question circling around my mind has been why The Walking Dead is superior to Revolution in nearly every way.
To be fair, the two shows have different goals. It took me some time to get my mind around the fact that while The Walking Dead is chock full of undead flesh eating mutants, it's actually the far more realistic show. That's to say that the show feels real and naturalistic within the wildly horrific environment within which the characters exist.
Revolution seems to take a little bit of a, shall we say, less serious or rigorous approach. This might be fine and well and good – and no doubt some viewers will not care – but I find this to be increasingly distracting and annoying as the first season progresses.
Everyone in Revolution is way too pretty, for one. Even though most of the series thus far takes place 15 years after the juice shuts off, it seems there's plenty of cleaning products around to pretty up the broadcast network-quality cast. And mark that ditto on the clothes. There's the one dude who used to work for Google who looks a little sloppy and grew a beard, but couldn't you imagine him looking the same way if he slept under his desk at the Googleplex in our "real world" a time or two?
And speaking of the Google dude, everyone looks laughably too young for the "15 year" timeline thing to make any sense. There are plenty of flashbacks to the time when the power mysteriously shuts off, and all of the "adults" in the main cast mysteriously look just about the same age in one timeline versus another. Compare this, by the way, to the extraordinary work AMC's Mad Men does in showing Don Draper and others in occasional flashback scenes.
And then there's the whole Civil War throwback thing. Obviously, life in the United States changes radically if the power goes off forever, but would everything take on a strikingly Civil War-era tilt? While Revolution tries to imbue the proceedings with a sense of swashbuckling adventure – lots of sword fights and the like – it comes off a bit light and silly, really. Things like The Monroe Republic and muskets and weirdly Civil War-ish military garb take me out of the action and make me start thinking of things that lead to this kind of article.
Take it back to The Walking Dead again and consider why in Revolution we don't see things like riot gear and kevlar vests? Surely in a time where swords and arrows are the main weapons of choice, you'd see lots of relics of our "modern age" floating around.
And don't get me started, please, on how the "rules" of Revolution don't really make sense. Steam power works – a recent episode featured a train heist – but nothing involving electricity does… including battery-powered devices. Okay, weird enough, but play that out and shouldn't the world of Revolution be jam packed with steampunk-style technology?
In any event, if there's one huge and redeeming feature to Revolution, it's Giancarlo Esposito. Give us more Gus Fring, and I'll keep watching. For a while.